Introduction to the PNGTrees Project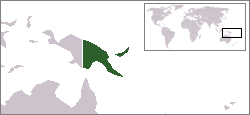 There are very few resources available to the timber industry that will enable the accurate identification of major tree species within Papua New Guinea. The unnecessary destruction of rare and otherwise valuable tree species has, in part, resulted from the inability to distinguish these species from the preferred timber species. Furthermore, the mixture of unwanted timber with that from preferred species has frequently resulted in the downgrading of all lumber to wood-chip.
The aim of this project is to develop interactive identification tools for the common trees of Papua New Guinea so that government and non-government agencies (particularly, foresters and loggers) are able to distinguish readily the important timber species from other non-timber trees. This project is a major initiative of the Papua New Guinea National Herbarium, together with the Forestry Research Institute, Lae, Papua New Guinea and the National Herbarium of New South Wales, Royal Botanic Gardens & Domain Trust, NSW, Australia.
This project is being developed to provide a mechanism for documenting the flora of Papua New Guinea, and so aligns with the Flora Malesiana project's objective to document the flora of the Malesian region.

|
Home
|
Project Details
|
Key
|
Data Sheets
|
Tree Descriptions
|
Data Dictionary
|
References
|
Copyright and disclaimer notice
---