Census of
VASCULAR PLANTS OF PAPUA NEW GUINEA
Barry J. Conn
Introduction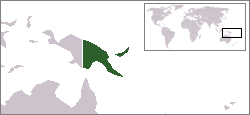 This census of vascular plants of Papua New Guinea is largely based on the plant names included in the PNGplants database. This list of plant names is provided to assist government and non-government agencies search for the correct scientific names of plant families, genera or species occurring in Papua New Guinea. It should be considered as a draft list that will become more complete as more of the collections held at the Papua New Guinea National Herbarium (LAE) are fully data-processed.

How to Cite:
Conn, B.J. (2008+) Census of Vascular Plants of Papua New Guinea (http://www.pngplants.org/PNGCensus)(date viewed).

Links to the International Plant Names Index (IPNI) provide the primary source of the publication details for each scientific name.
---